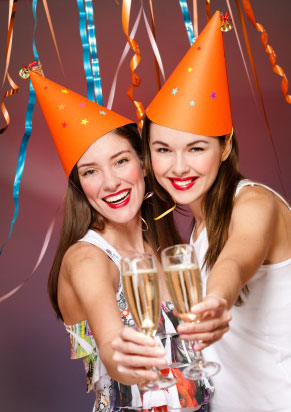 Are you looking forward to fun and parties this New Year's Eve? In the midst of all that, why not take a little time to bring a little true happiness into your life?
Beginning January 1, 2012, the energy of the world will shift, and it will be easier for everyone to expand their consciousness and experience awakening, connection, and oneness like never before. The wall tightened around our hearts will become thinner and the barriers between people will weaken.
Especially between 11 pm and 1 am this New Year's Eve, as our calendar transitions from one year to the next, tap into your heart and listen to what it's saying to you. It already knows exactly what you need. You can dance like no one is watching, intent on the feeling in your chest. You can even use your voice to call to your true self inside. Or you can simply breathe, and let your breath guide you back to yourself.
You don't have to do it alone. Are there others in your life who are looking for something better—happier, more loving, more connected?
If we all take some time to find the true joy and love inside on New Year's, I think it's the first step for change in 2012. Remembering that feeling we find and recapturing it and applying it to our lives, we can gradually create a new culture based on health, joy, and peace for everyone. We can catapult ourselves into an amazing new year.
I hope you'll join me in spirit on New Year's Eve.