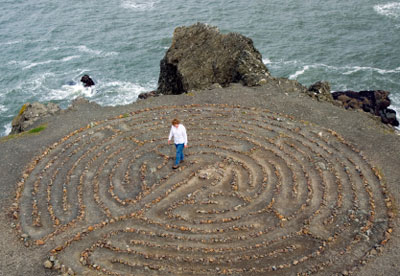 I spent so much time in my life lost and wandering. I searched for something to do that made me feel that even if I were to die doing it, I could die happy. I finally found it, but there wasn't anybody who showed it to me. My parents, my teachers at school, even religions or organizations or different meditation groups I went to couldn't help me find my path to work I was passionate about.
In order to find it, I had to find my true self through meditation. I learned you have to know your true self well. Only when you find yourself will you find your path.
It's not something you can locate because somebody tells you to go there. It's something your soul has to discover. You have to find it for yourself.
Ask yourself, "Isn't there some kind of path like that I could find?" Listen to the answers provided by your mind and heart once you've cleared them of extraneous thoughts and emotions.
You know you've found your own path when you're able to say, "If it's for this work, I'm willing to stake everything on it." At just the thought of going down that path, you can feel electricity running through your whole body.
For the last 30 years, I've worked hard on the path I chose—the path of helping people find themselves, find their own path, and find health, happiness, and peace through meditation and breathing. I will continue to work hard in the future, living every day with work I could die happy doing.